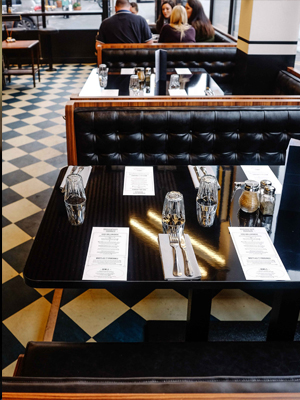 West Corner Diner
Situated in the Northern Quarter of Manchester´s city centre.
THE SITE
With its redbrick facades & external metal fire escapes, Manchester's Northern Quarter (NQ) has long been an alternative NYC film location. Located in a Conservation Area & on a prominent West Corner of Stevenson's Square, the subject site had become dilapidated & lost many of its original features.
The brief was to reactivate the corner & deliver an authentic NYC Style neighborhood Diner & Takeaway to serve locals from early until late.
 
DESIGN CHALLENGES
The initial design response to the brief was the archetypal 1950s aluminum & neon style Diner. This approach however felt contrived and at odds with thoughtful context of the Northern Quarter.
We began to research a more authentic and quintessential American Diner. Considering the prominent corner location we saw direct comparisons and possibilities with Edward Hoppers painting of 1942, 'Nighthawks'.
Considered the original American Diner we now had our source of inspiration and light to guide our vision.
DESIGN RESULTS
Channeled by Hoppers work a Film Noir influence & atmosphere began to manifest as the design developed.
A transporting environment is now created where Button black leather booths on olive wood carcasses form the perimeter and critics have noted the resemblance of his paintings to film stills. Nighthawks and works such as Night Shadows (1921) anticipate the look of film noir, whose development Hopper may have influenced Like Hoppers Painting the Diner now acts as an all day beacon & late night refuge welcoming the hungry and lonely of the NQ.
The Greens and Olive Woods glow warmly from a far.
Pointillism and the perforated columns
Pointillism is a technique of painting in which small, distinct dots of color are applied in patterns to form an image. Georges Seurat and Paul Signac developed the technique in 1886, branching from Impressionism.

The same technique is used here to recreate the
classical orders but instead of using colors, this is being replaced by using different sizes of perforated dots in order to create an illusion of depth.